Friday, December 19th, 2008
---
2:11 am
- Happy Holidays!
Thursday, November 20th, 2008
---
9:45 am
- Justin feat Beyonce or should i say Beyonce feat Justin
Sunday, November 9th, 2008
---
6:21 am
- you're just too good to be true.......


yawn.. every night without fail, i end up youtubing. i think its my thing now.. i think its time t go to bed!

woot!

current mood:
happy
Thursday, October 23rd, 2008
---
1:47 am
- ok..
oh no, it's like a music blog all over again. but wah lau.. my niece just passed me his latest album. woot!



current mood:
tired
Tuesday, October 21st, 2008
---
1:54 pm
- hush hush now my baby...
so.. my cousin knows about something, but keep it to yourself la! haa.. not say i'm not proud of it. but actually loud about it! hee.. off to hong kong, but before i leave, i'll share what i've been listening to



我的青春也不是没伤痕
是明白爱是信仰的延伸
甚么特征人缘还是眼神
也不会预知爱不爱的可能
保持单身忍不住又沉沦
兜着圈子来去有时苦等
人的一生感情是旋转门
转到了最后真心的就不分
有过竞争有过牺牲
被爱筛选过程
学会认真学会忠诚
适者才能生存
懂得永恒得要我们
进化成更好的人

我的青春有时还蛮单纯
相信幸福取决于爱得深
读进化论我赞成达尔文
没实力的就有淘汰的可能

我的替身已换过多少轮
记忆在旧情人心中变冷
我的一生有几道旋转门
转到了最后只剩你我没分
有过竞争有过牺牲
被爱筛选过程
学会认真学会忠诚
适者才能生存
懂得永恒得要我们
进化成更好的人

有过竞争有过牺牲
被爱筛选过程
学会认真学会忠诚
适者才能生存
懂得永恒得要我们
进化成更好的人

懂得永恒得要我们
进化成更好的人

进化成更好的人



current mood:
hot
Saturday, October 4th, 2008
---
12:54 pm
- Oh.. Singaporeans...
A couple of days ago, I was walking down Orchard and from afar, I witnessed someone fell. It was a nasty fall no doubt. i wasn't that near her but there were a couple of people around her who just watched her, helplessly get back on her feet. Today, I was walking down Market in San Francisco, yet another lady fell. Is it me that people start falling when they're near me? Haa... Never mind, back to the falling part, people were rushing up to her to help this poor lady get back on her feet. It is just us? I really hope we can be a little bit more gracious at times... I'm still a proud Singaporean... But there's just so much we can improve on....

current mood:
blah
Sunday, September 7th, 2008
---
7:58 pm
- 15 years of bo liao nessssss.....
And i present 15 years of madness.... The new sitcom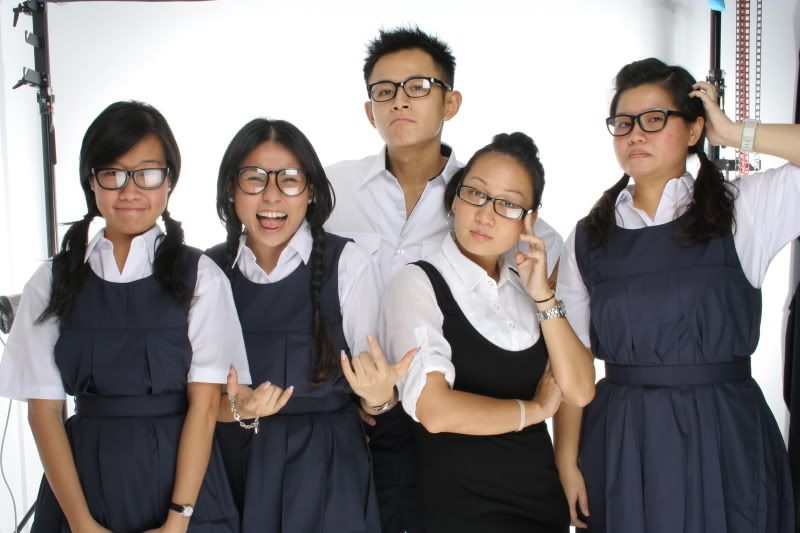 Monday, August 11th, 2008
---
9:54 pm
- Passenger Peeves
Read this somewhere.. Hope you have a good read...

We love all our passengers. Or actually we tolerate them because we recognize that they are the reason we are able to pluck the benefits of a jet set lifestyle. But no matter how much we appreciate them there are certain dirty deeds that passengers indulge in that continue to drive crew crazy.

Boarding
Unfortunately boarding a plane is the first contact between crew and passengers. Because boarding causes enough tension to ensure crew are dying for a smoke break even before take-off. No matter what the size of the seat numbers, there will always be merry wanderers who end up right at the back when their seats are in the first row.

These passengers then proceed to trudge upstream, with full luggage consignment causing other passengers and crew enough irritation to want to initiate a stampede. Even when passengers who are bright enough to find their assigned seats, mixed-ups during check in inevitably mean that a family of four will be split in all four wind directions, while I am completely sympathetic to the distress this causes our passengers, I take offense to angry accusations of "WHY DID YOU SPLIT MY FAMILY UP?!"

Then comes the stage that crew nightmares consist of, finding space for hand luggage. Although hand luggage is a term that fails hopelessly to describe the mounts of possessions that passengers drag on board. Passenger revenge to airlines losing and misplacing check in luggage is to bring everything they own as land luggage. That is why the first passengers on board claim all the space in the surrounding seven overhead compartments, leaving disgruntled later boarding passengers with only enough space to stow their boarding pass.

But somehow, we mange. It is then during all this insanity of conjuring up space for bags and relocating seats to three hundred complaining passengers that a little voice will demand a glass of water. And if you're nice enough to comply, the other 299 passengers will copy the request as soon as they see you passing with this hated glass of liquid.

By this time you're tightly belted in for take-off, there is only enough time for one argument with a passenger who needs the toilet at the very time of a turbulent take-off.

The Service
I am very impressed with what some of the better airlines do to keep their passengers hydrated and full. These days it's not uncommon to see even economy passengers having an edible meal. But at the end of the day any reasonable person should realize that a meal at 30 thousand feet is never going to add up to a five star dining experience.

When presented with a choice of beef or chicken it's quite common to hear "don't you have anything else?" Well sure, we'll just consult the onboard chef as to what else he can whip up in a galley the size of a petite shoebox. I've been amazed at the absurdity of requests for milkshakes, fries and eggnog, mostly on a 40-minute flight.

Deceptive advertising is at the root of passengers believing they will enjoy the full attention of crew salivating to tend to their every demand. Crew faced with a ratio of 50 passengers to one stressed out crew member know the feeling of serving one passenger who wants an extra cocktail, vegetarian meal and a list of medication all during the service.

But the moment that provides most opportunity for full on flying rage is when passengers need the toilet during a time-pressured service. Rolling the food trolley back and forth while passengers approach and leave the toilets for their seats provide time for nurturing murderous thoughts.

Passengers are even more impatient than crew. They are eager to complain when their meal does not arrive the second crew are cleared for service and they want their tray removed as soon as the last fork full of food enters their mouths. And after all this fun it's time to start serving the passengers who believe they are in a 'drink as much as you can bar'.

Disemabrking
Despite all the potential pitfalls most flights turn out all right especially when the long awaited descent starts. Descending is also the time when every passenger on board needs to use the toilet just in case they never get to use one again. It's also a time of collecting headsets and being blamed for every unfinished movie that will scar the viewer for life.

There is a myth out there that if you jump up as soon as the wheel touch ground you'll be out of the aircraft first. This myth has survived despite passengers witnessing the fact that taxiing takes about half an hour, a time when passengers are meant to be securely strapped in.

Even after almost decapitating fellow passengers to get bags out of the over head compartments with impressive speed and strength, there is still the inevitable standing in the aisle waiting for the air bridge and other landing formalities.

If only we could start an educational campaign that no matter what you do, everyone leaves the plane at roughly the same time, disembarking will be a much more peaceful endeavor.

All this does not take the fun out of flying, because cabin crew are a very resourceful bunch. We have learned to deal with all these little passenger peeves without relying on physical force.

And every now and then we are blessed with a flight of model travelers who never press the call bell, stay in their seats with their seat belts and even thank the crew when they leave after a 14-hour flight. And this inspires us enough to deal with the next bunch of peeveful passengers.

current mood:
tired
Thursday, June 26th, 2008
---
3:16 pm
- That everyone can be special too...
Saturday, June 21st, 2008
---
4:03 pm
- I am feeling this song now..
I'm spinning around
Move out of my way
I know you're feelin' me 'cuz
you like it like this
I'm breakin' it down
I'm not the same
I know you're feelin' me 'cuz you like it



Ivy's coming back after a month and a half in Monaco and just in time. Meeting up with good old friends for a good old fashioned burger meal. Happiness....
current mood:
excited
Thursday, June 19th, 2008
---
12:54 am
My Good Friend got me this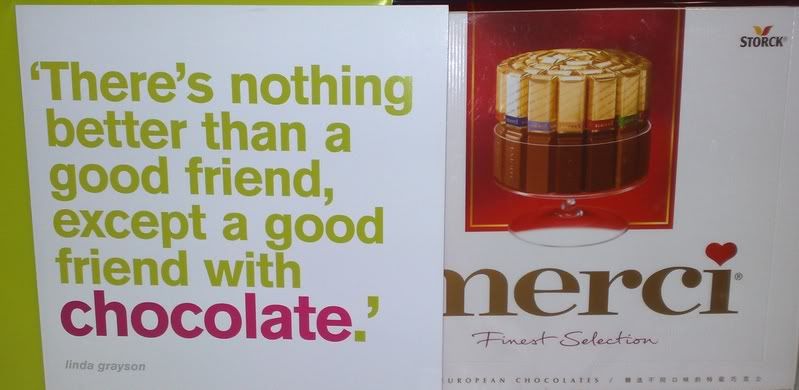 ...... and she'll soon be leaving for New York. Sobzzzzz

current mood:
loved
Friday, June 13th, 2008
---
7:14 am
- Careful for what you ask for.. (Give it 2 Me)
Ok, i was in my hotel room minding my own business and i realised I haven't seen the video for Madonna's new single. But damn it, in Istanbul or rather Turkey, youtube's website seems to be unaccessible there. Oh well.. Guess what, the video started playing on the tv instead. Saved me the trouble.. Hee





current mood:
tired
Thursday, June 12th, 2008
---
5:02 pm
- Oh...
You are The Chariot
Triumph, Victory, Overcoming Obstacles.
The chariot is one of the most complex cards to define. On its most basic level, it implies war, a struggle, and an eventual, hard-won victory. Either over enemies, obstacles, nature, the beasts inside you, or to just get what you want. But there is a great deal more to it. The charioteer wears emblems of the sun, yet the sign behind this card is the moon. The chariot is all about motion, and yet it is often shown as stationary. It is a union of opposites, like the black and white steeds. They pull in different directions, but must be (and can be!) made to go together in one direction. Control is required over opposing emotions, wants, needs, people, circumstances; bring them together and give them a single direction, your direction. Confidence is also needed and, most especially, motivation. The card can, in fact, indicate new motivation or inspiration, which gets a stagnant situation moving again.
What Tarot Card are You?
Take the Test to Find Out.
current mood:
hungry
Thursday, May 29th, 2008
---
11:04 pm
- Is it how it feels? Pom pom, pom pom....
Go thru the lyrics hor





On any given night
Catch me on the floor
Working up the sweat
That's what music is for
I'd rather not explain
For me it's just usual

You can catch me poppin' like (Once I get going I am gone)
Dropin' like
Ain't no stoppin' like
Are you watchin' like
You can catch me poppin' like (I keep it going all night long)
Dropin' like
Ain't no stoppin' like
Are you watching like

You know I feel it in my heartbeat
It may feel old to you but to me it feels new
You know I feel it in my heartbeat
Don't you know, can't you see, when I dance I feel free
Which makes me feel like the only one
The only one
That the light shines on

Pharrell: Hey!

This complicated life
I tried to do my best
I always tell myself
It's all just a test
For me it's an escape
For dancing makes you beautiful

Pharrell: Come on

And they can't pretend (Once I am moving I'm alright)
It's remembering
Let the music play
Are you watchin' like
You can catch me poppin' like (I keep on dancing to the night)
Each and every night
Let the music play
'Cause I'm here to stay

You know I feel it in my heartbeat
It may feel old to you but to me it feels new (Come on)
You know I feel it in my heartbeat
Don't you know, can't you see, when I dance I feel free
Which makes me feel like the only one (The only one, the only one)
The only one
That the light shines on (Oh)

Pharrell: Hey

See my booty get down like (Oh)
See my booty get down like (Come on, oh)
See my booty get down like (Lower uh)
See my booty get down like (Little lower baby oh)
Get down (Oh)
Put that booty, get down (Oh)
See my booty get down like

You probably think I'm crazy
I don't want you to save me
Don't mean to disappoint you
I'd never felt so free
If you could stand in shoes
Then you would feel my heartbeat too

You can catch me poppin' like (Once I am moving I'm alright)
Dropin' like
Ain't no stoppin' like
Are you watchin' like
You can catch me poppin' like (I can keep on going through the night)
Dropin' like
Ain't no stoppin' like
Are you watching like

You know I feel it in my heartbeat
It may feel old to you but to me it feels new
You know I feel it in my heartbeat
Don't you know, can't you see, when I dance I feel free

Which makes me feel it in my heartbeat (The only one, the only one)
It may feel old to you but to me it feels new
You know I feel it in my heartbeat
Don't you know, can't you see, when I dance I feel free
Which makes me feel the only one
The only one
That the light shines on

Pharrell: Girl!

Pharrell: M-Dolla, M-Dolla
current mood:
blah
Tuesday, May 27th, 2008
---
3:27 am
- Bleah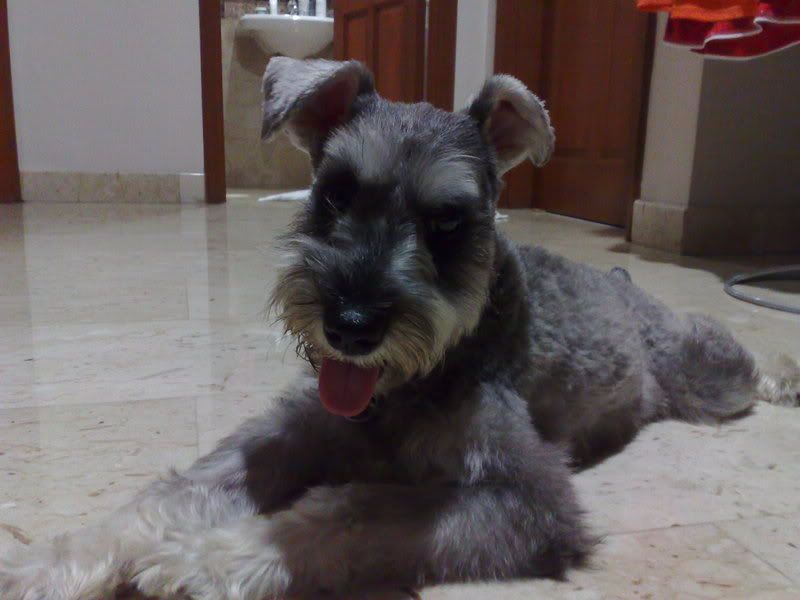 current mood:
awake
3:16 am
- My Love, new found Love.....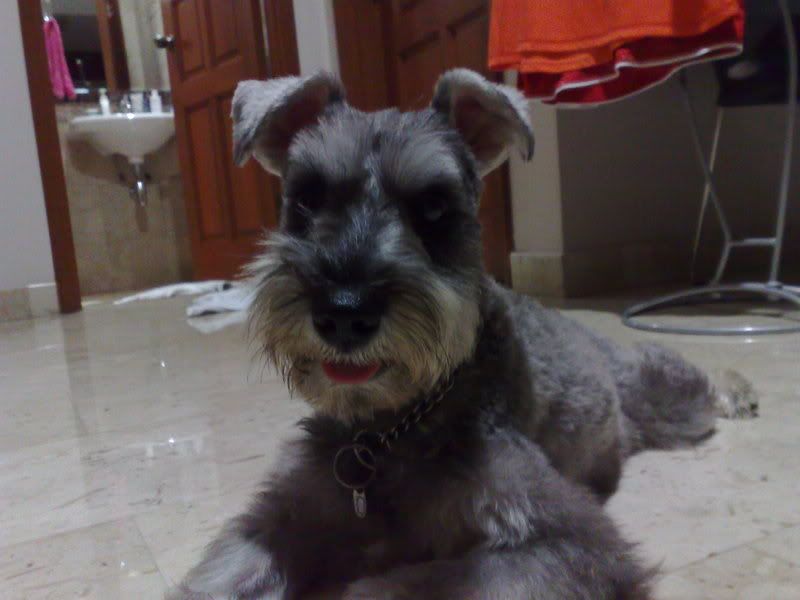 Pepper... Hmmm. I so want to get salt now!

current mood:
awake
Thursday, May 8th, 2008
---
10:37 am
- OMG! This is embarrassing!!!!!!!!!!!!!!!!!!!!!!!!
From the International Herald Tribune

Singapore succeeds at managing everything - except dating

By Seth Mydans Published: April 29, 2008

SINGAPORE: It was like a college mixer, a classroom full of young men and women seeking a recipe for romance.

They had assembled for the first class of "Love Relations for Life: A Journey of Romance, Love and Sexuality."

There was giggling and banter among the students, but that was all part of the course material as their teacher, Suki Tong, led them into the basics of dating, falling in love and staying together.

The course, which is in its second year at two polytechnic institutes, is the latest of many, mostly futile, campaigns by the government to get its citizens to mate and multiply. Its popularity last year has led to talk of expansion through the higher education system.

"We want to tell students: Don't wait until you have built up your career," Yu-Foo Yee Shoon, minister of state for community development, youth and sports, said at a news conference last month. "Sometimes, it is too late, especially for girls."

The courses are an extension of government matchmaking programs that try to address the twin challenges embodied in a falling birthrate: Too few people are having babies and too few of those who are belong to what Singapore considers the genetically desirable educated elite.

For 25 years, the mating rituals organized by the government - tea dances, wine tasting, cooking classes, cruises, screenings of romantic movies - have been among the country's least-successful social engineering programs.

Last year Singapore's fertility rate fell to a record low of 1.24 children per woman of childbearing age, one of the lowest in the world and the 28th year in a row it has stayed below the rate of 2.5 children needed to maintain the population.

But even a replacement-level rate would not be enough for today's planners. The government recently announced that it was aiming to increase the population by 40 percent over the next half century, to 6.5 million from the current 4.5 million.

"Teaching our youth in school how to fall in love" is a good solution, wrote Andy Ho, a senior writer at The Straits Times, a government-friendly newspaper that does its best to help out in Singapore's many campaigns.

In 1991, for example, when the government began offering cash bonuses to couples with more than two children, the newspaper printed tips for having sex in the back seat of a car, including directions to some of the "darkest, most secluded and most romantic spots" for parking.

It suggested covering the windows with newspapers for privacy.

Singapore is a topiary nation, constantly trimming and pruning itself into shapes that it believes improve on nature.

As the modern world weakens traditional family ties, for example, families are given financial incentives to care for their elderly parents - or taken to court for neglecting them.

Singapore is known for its campaigns to get residents to be polite, to smile, to be tidy, to speak proper English and not to chew gum.

In 1984, the country's master planner, then-Prime Minister Lee Kuan Yew, declared that too few of the country's most eligible women - the ones with college degrees - were marrying and having children.

He set up the Social Development Unit to address the problem and since then the government has been Singapore's principal matchmaker.

In addition to its tea dances and moonlight cruises, the agency also acts as a lonely hearts adviser, with an online counselor named Dr. Love and a menu of boy-meets-girl suggestions on its Web site, www.lovebyte.org.sg.

"Guys, girls notice everything!" the Web site offers in one of its dating tips. "Comb your hair differently and they notice. Change your watch and they notice! Skipped your morning shower and sprayed on deodorant to cover the smell - they notice! What does this mean? Well, bathe regularly, change something about yourself, be observant and compliment the lady."

Lee himself acknowledged how silly some of this may seem.

"Never mind the hullabaloo in the press - all the foreign correspondents writing that a crackpot government is trying to interfere in people's lives," he said when he inaugurated the Social Development Unit.

"If we continue to reproduce ourselves in this lopsided way we will be unable to maintain our present standards," he said.

In other words, said Annie Chan, director of a matchmaking agency, "Our government wants smart ladies to meet smart guys to get smart children."

But in Singapore it is impossible to get very far from thoughts of money and the workplace. These guys may have other things on their minds besides romance and babies.

"Some people say if you're a smart guy you should marry a smart woman who can help you with your finances and career," said Chan, whose agency is called Club2040 and who has worked under contract for the Social Development Unit.

Singaporeans quite seriously describe their society as being driven by a local concept called "kiasu," a desire not so much to get ahead as, rather, not to lose out. That concept might be applied, for example, to a person who pushes ahead of everybody else to get into an elevator.

This single-mindedness, in life as in elevators, seems to leave little room for social graces or for romance or procreation. "The E.Q. here can be appalling," said Chan, referring to an "emotional quotient" of social skills.

But even while working on the solution, Chan seems to be part of the problem. She is 39 and has been married for four years, but said she does not have the time or energy to have children.

"Me and my husband are both busy now running our own businesses," she said. "When he's back home he's tired out, and I bring home work to do. At the end of the day, business does interfere."

It is a lot to ask of a college course to break attitudes like this. Three 20-year-old graduates from last year's inaugural course at Singapore Polytechnic still seemed imbued more with "kiasu" than romance.

Despite everything their teachers had told them about multitasking work and love, none was in a relationship. And nothing they had heard in class seemed to have dented their stereotypes about the opposite sex.

"I'm not open to relationships in school," said Wei Shan Koh, a former student who works as a teacher's aide. "Boys in school are not my cup of tea. They are male chauvinist pigs. They're annoying and childish. And they won't give in to you. They're just not mature."

Another former student, Tian Xi Tang, was quick to respond.

"I think girls' ideas are a bit childish, or you might say girlie," said Tian, who hopes to become an engineer. "It's a matter of pride. Guys are more outspoken. We don't like a girl to be more outspoken."

Kamal Prakash, who hopes to be a lecturer in mathematics, gave voice to what appears to be the common theme here, both among young people and their elders.

"I am not interested now in love relations because I want to continue my studies," he said. "If I concentrate on love relations, I won't be able to concentrate on my studies."

current mood:
amused
Wednesday, May 7th, 2008
---
11:48 pm
- just woke up from a fuzzy dream
somehow she's able to convey my feelings again..

:|
current mood:
confused
Saturday, May 3rd, 2008
---
5:18 am
- The Internet is For Porn
current mood:
amused
Thursday, May 1st, 2008
---
4:26 pm
- Avenue Q is coming!
I just caught this in Broadway last month. And they're coming.. Hooray! It's the grown up rude Sesame Street...